Free Application for Federal Student Aid (FAFSA)
Federal Student Aid, a part of the U.S. Department of Education, is the largest provider of student financial aid in the nation. At the office of Federal Student Aid, our 1,200 employees help make college education possible for every dedicated mind by providing more than $150 billion in federal grants, loans, and work-study funds each year to more than 13 million students paying for college or career school. We are proud to sponsor millions of American minds pursuing their educational dreams.
Click HERE to Apply for FREE!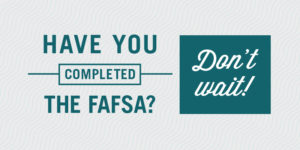 .
Ten Steps to a Strong Scholarship Application
How to simplify applying for scholarships:
Scholarships do not have to be repaid, which makes them an excellent way to pay for college. There are thousands of scholarships available, so, to increase your chances of getting an award, apply for more than one. Begin researching scholarships and requesting applications throughout the spring and summer of your junior year of high school. This will give you time to meet each application deadline. Here are ten suggestions for simplifying and streamlining your scholarship application process.
Get organized. Purchase an expandable file. This will allow you to keep and protect copies of your scholarship applications or printouts of applications that were submitted online.
Have your photo taken. Some applications request a photograph, which should be a simple head shot.
Draft a good resume. Prepare an academic resume that includes all organizations, clubs, volunteer work, and extracurricular activities you have participated in. Include honors and awards you have received from the ninth grade on, both from your school activities as well as from non-school activities.
Request recommendations. Gather at least three recommendations. Ask teachers, counselors, and members of the clergy early. Avoid including recommendations from family members or fellow students.
Obtain your high school transcript. Keep copies of your high school transcript available in case it is requested as part of an application. If a scholarship committee does not specifically ask for an official transcript, include only a photocopy. If the committee requests an official transcript, request one from your school.
Write general essays ahead, then customize. Essays are often one element of a scholarship application. You can draft up something general on your goals, achievements, and financial need. Always be sure that you tailor your response to address the specific topic.
Set up a simple, conventional email address. Make sure you set up and use an email address that represents you well and that doesn't sound odd or offbeat.
Track due dates. Pay close attention to all due dates and track them on a calendar. Applications will not be considered if they are not received by the due date.
Submit your application exactly as requested. For example, if the scholarship committee asks for the application, transcript, resume and two letters of recommendation, make sure the documents are presented in that order.
Make copies before submitting. If you have a paper application, make a copy for your records before sending. It is recommended that you send an application with delivery confirmation so you have proof that it arrived before the deadline.
What Parents Need to Know About College Planning
1) Begin researching and planning your child's college budget.
Parents who start the college planning process early have an advantage. They can help their teen begin to gain confidence freshman year, knowing that they have a sound financial plan in place to pay for their education.
In 2011, the average price for tuition, room and board for a college freshman rose to $13,600 at public institutions and to $36,000 at private non-profit universities — an increase of more than a third since last year, according to the National Center for Education Statistics.
"If you do the right research up front, then you are going to pick a school that not only has our child's best interest at heart, but also has a substantial financial aid package," said Scott Weingold, a national college financing expert and co-publisher of CollegeMadeSimple.com.
Parents and students should work together to identify potential scholarships and monitor deadlines for the awards. The bulk of college scholarships are reserved for high school seniors, however, students can begin earning money sooner.
The Scholastic Art & Writing Awards is among the scholarships that can build a college nest egg for young students. In the past five years, the contest, open to teens in grades 7-12, has contributed more than $25 million in scholarships to winners.
2) Help your student shop around for the right deal.
If your student can't raise enough money for college through scholarships and family contributions, they may have to consider student loans. Nearly 7 in 10 undergrads have student loans.
Students seeking Stafford Subsidized Loans must meet financial requirements because the loans are based on need. The loans provide up to $3,500 per year to freshman and up to $5,500 per year for seniors. Interest does not accrue on the loan while a student is in school at least half time.
Stafford Unsubsidized Loans have no financial requirements. They accrue interest from the time funds are disbursed to the school. Independent freshman can qualify for up to $6,000 annually through the federal loan.
Knowing that they have to pay the tab for some of their education could help a student narrow down their field of choices to a campus that meets their needs and is affordable.
3) Get them ready to stand on their own.
Planning for college during freshman year also means preparing a student to be more responsible during high school. The college years shouldn't be a student's first taste of independence or extended stay from home.
Sign them up for summer programs that allow them to spend weeks away from home enjoying a hobby, studying a subject of interest or volunteering. Some universities offer a summer pre-college experience to give students a chance to learn their surroundings and take college classes.
Such programs teach students valuable lessons about co-existing with a roommate they don't know. They also learn how to care for their basic needs. The more self-sufficient a rising freshman becomes, the more successful they will be throughout high school and when they attend college.
4) Don't worry, detachment is part of growing up.
If you have done a great job helping your child mature, don't be offended if they detach from you a bit now that they are in high school. Let them explore their surroundings without feeling guilty.
"They are testing a sense of independence that they have never experienced before," explained Catalina Hernandez, a retention coordinator in the Illinois College Advising Corps. "Give them time, they will need you again and they will reach out."
5) Encourage involvement in activities that interest your child.
The more activities a child is encouraged to participate in, the more he or she will discover new interests and hobbies that could help shape education and career goals. Extracurricular activities also enhance resumes and make a student's application more appealing to colleges.
Ultimately, parents need to hit the ground running during their child's freshmen year of high school. They should promote independence and involvement in new activities, but let their child know that college is imminent if they want it by being open about the costs and ways your family is going to pay for college.
Source:
Tax Benefits
Overview of Education Tax Benefits
Students and their families can get money for college by filing their federal income tax returns. These education tax benefits include tax deductions and tax credits for college savings, tuition and fees, scholarships, employer tuition assistance and student loan interest. Tax deductions reduce the amount of income that is taxed, while tax credits directly reduce the amount of taxes paid.
Most of the tax deductions are above-the-line exclusions from income, which reduce the taxpayer's adjusted gross income (AGI). Taxpayers can claim these deductions even if they don't itemize. The reduction in AGI may help them qualify for other tax benefits and for more need-based financial aid. Thus an exclusion from income may provide both direct and indirect financial benefits. Other tax deductions are below-the-line or itemized deductions that reduce the amount of taxable income.
Some of the tax credits are refundable and some are not. When a tax credit is not refundable, the tax credit is capped at the taxpayer's tax liability.
Most of the education tax benefits are restricted to taxpayers who file federal income tax returns as single or as married filing jointly. Married taxpayers who file separate federal income tax returns are not eligible.
Picking the best mix of education tax benefits can be complicated, in part because of Internal Revenue Service (IRS) rules that prevent double dipping. Taxpayers can't use the same educational expenses to justify more than one education tax benefit.
Summary of Education Tax Benefits
A summary of the various education tax benefits appears in the following tables.
Additional Information
IRS Publication 970, Tax Benefits for Education (PDF), provides additional detail on the various education tax benefits.
The IRS also publishes a special information center on Tax Benefits for Education and interactive tax assistants for evaluating eligibility for the education tax credits/deductions and student loan interest deduction. See also IRS Tax Tip 2010-30. Questions about education tax benefits are among the most frequently asked questions received by the IRS.
Many students file federal income tax returns for the first time when enrolled in college. IRS Publication 17, Your Income Tax, provides a good introduction, covering such topics as filing status, personal exemptions, withholding, estimated tax, standard deductions, itemized deductions, income tax and tax credits.
Income phaseouts are updated annually by the IRS. The 2013 income phaseouts were published in Revenue Procedure 2012-41 and Revenue Procedure 2013-15. The 2014 income phaseouts were published in Revenue Procedure 2013-35 on November 18, 2013. The 2015 income phaseouts were published in Revenue Procedure 2014-61 on October 30, 2014.
The US Government Accountability Office (GAO) published a report, Multiple Higher Education Tax Incentives Create Opportunities for Taxpayers to Make Costly Mistakes (GAO-08-717T, May 1, 2008), which finds that the complexity of the many education tax benefits leads to suboptimal behavior by taxpayers. Some eligible taxpayers do not claim the education tax benefits. Others could have obtained a greater reduction in their tax liability by claiming a different mix of tax credits and deductions.
DISCLAIMER: The information contained on this web site is provided for general informational and educational purposes and is not, nor intended to be, legal, financial or tax advice. The publisher is not authorized to practice in front of the IRS and is not subject to IRS Circular 230. This information is general in nature and may not apply to the specific circumstances of individual readers. No claims are made about the accuracy, timeliness or usefulness of the content contained on this web site or any site linked to this site. Users of this site should seek specific guidance directly from a qualified legal, financial or tax professional. Nothing contained on or provided through this site is intended to be or is to be used as a substitute for professional advice.
Sources:
Parents, Click Here for Information on Educational Tax Benefits